Here's the Press Release
———-
Customers will be able to get whole collections, individual short stories, and mix and match to curate their own short story collections.
Slicebooks, an innovative provider of publishing tools and white label stores, has partnered with Páginas de Espuma of Spain to launch "RelatosRevueltos.com" (loosely translated it means "scrambled stories"), a new ebook store dedicated to short story collections. As is standard with all Slicebooks white label stores, all content is made available whole or chunked. In this case, customers will be able to purchase whole short story collections or just individual stories. They can also use the built-in ebook curator tool to drag and drop stories and create their own curated custom ebook. The store is scheduled to launch in Q3 2016.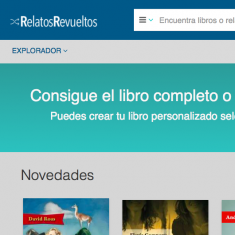 "We always wanted to allow our readers to create their own short story anthologies mixing their preferred short stories from different books and authors, but it was impossible to do it in print. Nowadays in the digital age, and thanks to Slicebooks remix technology, we can offer this innovative service to our readers," said Juan Casamayor, Publishers of Páginas de Espuma.
The Slicebooks platform features innovative tools like the eBook Slicer, eBook Curator and StoreApp Widgets, all designed to help publishers repurpose content and sell direct to consumers. The Slicebooks white label program lets publishers brand their own iTunes-style store with all the unique Slicebooks features included. Slicebooks has localized RelatosRevueltos.com into Spanish.
"When we built the white label Slicebooks store platform, our vision was that it would be adaptable to a variety of use cases, and that's proving to be true", said Jill Tomich, co-founder of Slicebooks. "One of the first stores we launched, the Rowman & Littlefield Journal store, called "journals.rowman.com", provides academic journals whole or by the article. PastadoProfessor.com, the upcoming Brazilian HigherEd store, will offer over 3000 academic books and 60,000 chapters so that professors can curate custom course packs and students can purchase content whole or by the chapter. RelatosRevueltos.com is a personal favorite. Being short story fans ourselves, we've always thought it would great to be able to browse and buy short stories individually," said Tomich.
Another unique feature of the Slicebooks white label stores are the StoreApp widgets. These are embeddable widgets with full ecommerce functionality that can be created in minutes, branded and used to target niche audiences. For example, authors or anyone who blogs can embed a branded mobile StoreApp right on their blog site and fill it with content customized for their particular audience. This means that, for RelatosRevueltos.com, if there are blogs or other sites that review or discuss short stories, Relatos Revueltos can create a widget to embed on those sites so that visitors can easily purchase the short stories they are reading about, all without having to leave the blog site.
About Slicebooks
Slicebooks is a publishing platform that includes a patent-pending digital content management system, an iTunes style white label retail platform and mobile web apps, and will soon launch yaBeam, the world's first location-based marketing engine for publishers. The Slicebooks development team is led by veterans from such leading technology publishing companies as O'Reilly Media, Pearson, and Manning. For more information, visit http://slicebooks.com
About Páginas de Espuma
Páginas de Espuma is an independent publishing house founded in 1999. It is one of the leading publishers of the short story genre in Spain and Latin America and is also well known for its humanities collection. With an average of twenty new publications a year, Páginas de Espuma has published works by some of the most revered writers in the Spanish language, and has built a reputation among authors as one of the most respected publishers on both sides of the Atlantic.
About Slicebooks
Slicebooks is a publishing platform that includes a patent-pending content management system, an iTunes style white label retail platform and mobile web apps, and will soon launch yaBeam, the world's first location-based marketing engine for publishers. The Slicebooks development team is led by veterans from such leading technology publishing companies as O'Reilly Media, Pearson, and Manning. For more information, visit http://slicebooks.com